Alan O'Donohoe is  a man with not only a huge amount of energy, enthusiasm and full of all-round niceness (for a teacher 😉 ) but has been arranging Raspberry Jams since the early days of the Raspberry Pi. Recently he arranged a Raspberry Jamboree and stated this:
On Saturday 9th, I'm organising the first Raspberry Jamboree in Manchester, UK. The principle aim of this event is to allow teachers and educators to discover and share the potential of the Raspberry Pi computer for teaching Computing Science, Design & Technology etc. A secondary aim is to share the ingredients & recipe for an effective Raspberry Jam.  We will have many members of the Raspberry Pi foundation there as well as teachers & educators from across Europe.
Although I'm not directly involved in education (yet!) I attended the event and helped run one of the workshops (PiFace with Andrew Robinson and Mike Cook), and run a 15-minute Q&A session for my own wiringPi project too.
The event sold-out! Over 360 tickets were sold for the day and the place was buzzing with people – and not just teachers/educators but enthusiasts like me who are looking to help make a difference.
From my on point of view, I was able to meet up with lots of people I've met online via the forums, IRC, twitter and so on, exchange ideas and thoughts and generally just hang out! Did have some embarrassment by meeting people that know me from the forums, IRC, etc., but who gave me their real names rather than their online handles/aliases – see here for my thoughts on that…
Interesting people I met included Romilly Cocking from Quick2Wire, Chris Roffey from Coding Club, "Grumpy" Mike Cook, the chaps from Ciseco, Andrew Robinson of PiFace fame, and his colleagues/students. Simon Walters @cymplecy and his motley crew who were doing the Robotics talk, and many many others too – brain like a sieve though…
The event was sponsored by CPC who had a Pi Shop on-site and who I know also helped out Simon, Ben and Jason on their robotics presentation too with some hardware they needed.
Mike Cook was showing off some of his projects featured in his new book; Raspberry Pi For Dummies – which should be available soon. (And he's not really grumpy in real life!)
So what did I get out of it? Well I learned that schools vary considerably in their levels of funding and general knowledge in the IT department – from schools that can buy dozens of iPads to schools that have 3 Raspberry Pi's and can't afford £60 for 3 PiFace boards… Also, I found that while some schools have very enthusiastic IT teachers, some simply don't as "IT" has been nothing more than glorified word-processing for so-long, the very thing that the Raspberry Pi is supposed to address is almost in-danger of not being addressed due to the lack of suitably qualified people to teach IT!
Also from my 15-minute wiringPi session – thanks to all who attended! It was really useful to get your feedback – keep it coming, please email or otherwise contact me with suggestions and ideas. I really appreciate it. Installation seems to be a key issue, so I'll be looking at providing a .deb package for Raspbian – I know there is already a package available for Arch, but things are changing quite rapidly right now. (Gentoo Linux users generally don't have issues installing from source, so I'll not wory too much from that perspective!)
It was quite a long day in the end – there was the obligatory pub and food session afterwards, so it was good to mix with the varied crowds that went out. I did manage to take a few photos, so I'll just include them below here – see if you can spot yourself 😉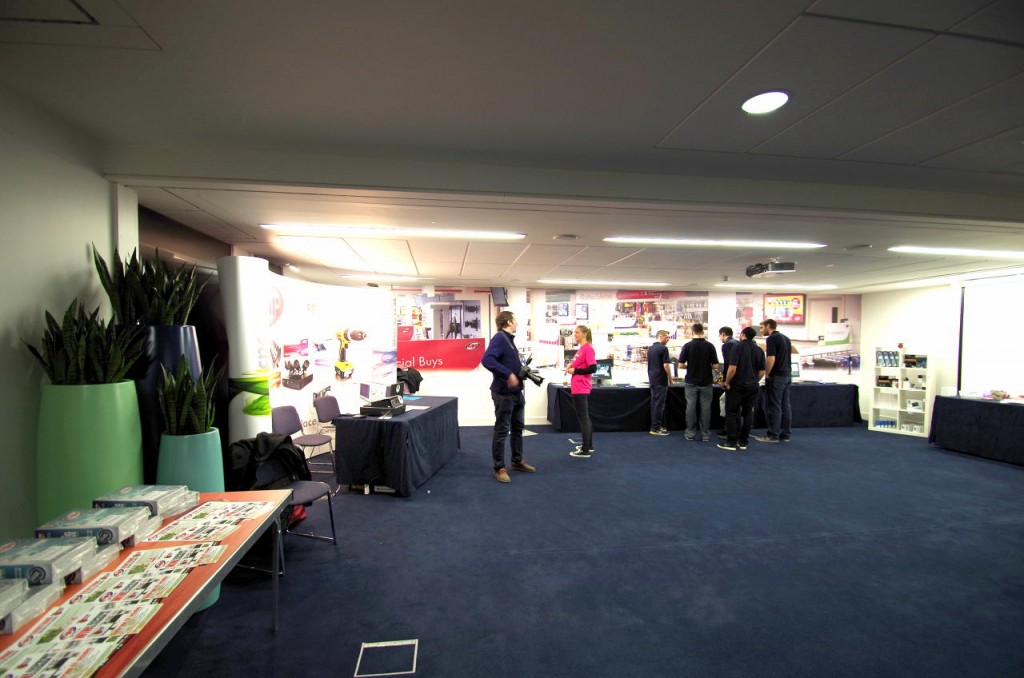 The CPC Pi Store – very early in the morning before people really started to arrive – it was 5 deep in people through the day!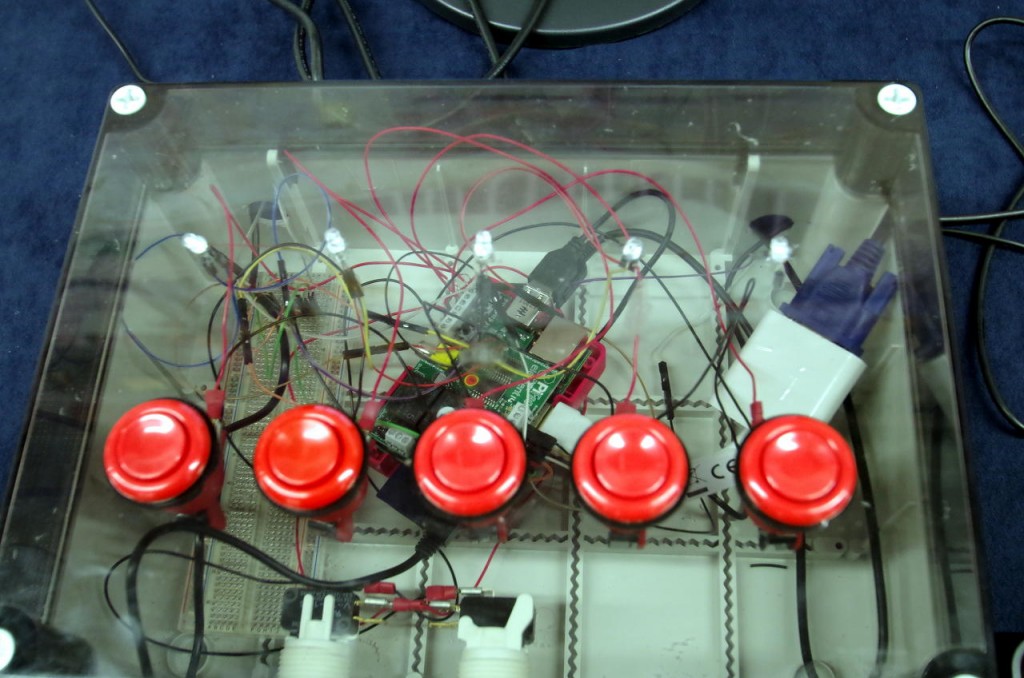 A "Simon"/Memory game made by CPC on their stand. Yes, there's a Pi with a PiFace on-top in there somewhere!
The main presentation room – looking from the back – again I got in early before most people started to arrive, so it's a bit empty here!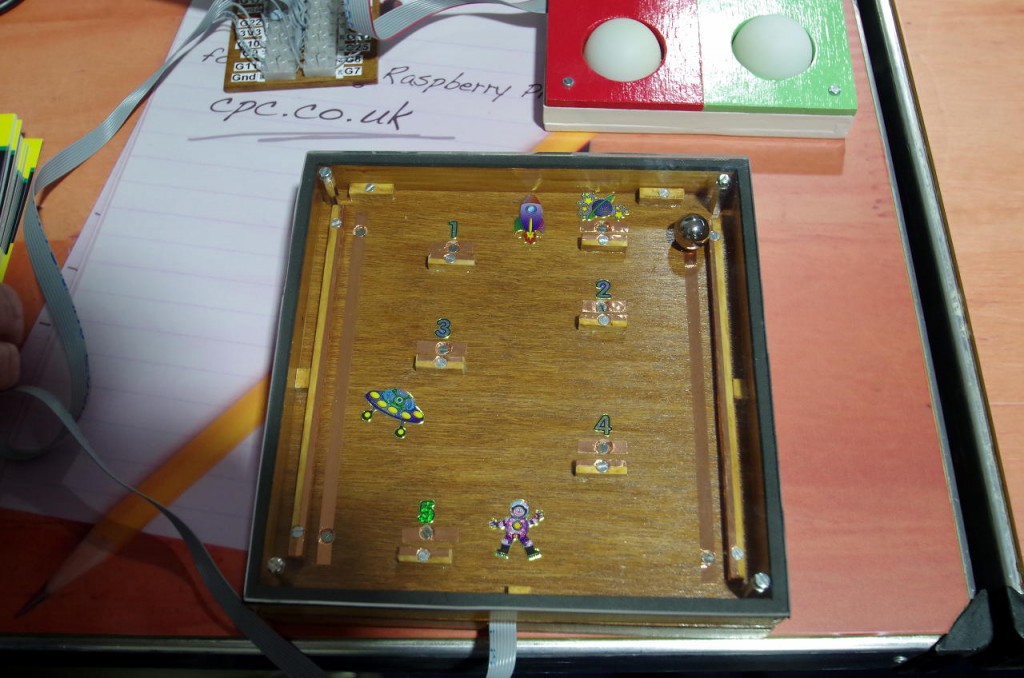 One of Mike Cooks projects for his book…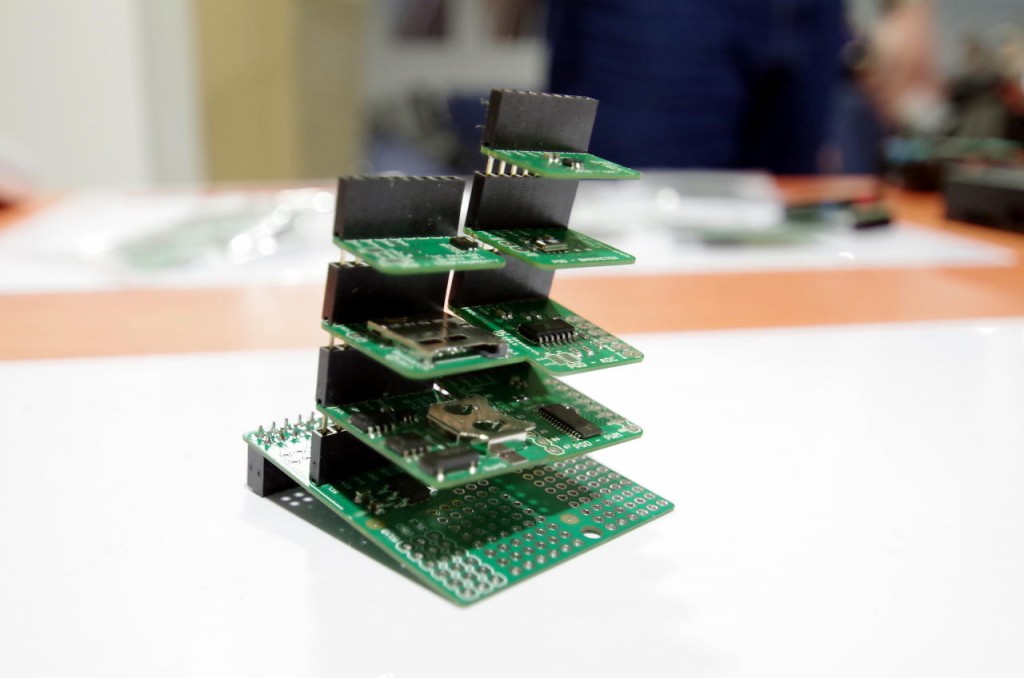 A "stack" of Ciseco interface boards for the Pi. The bottom one sits on-top of the Pi, and the rest just plug-in…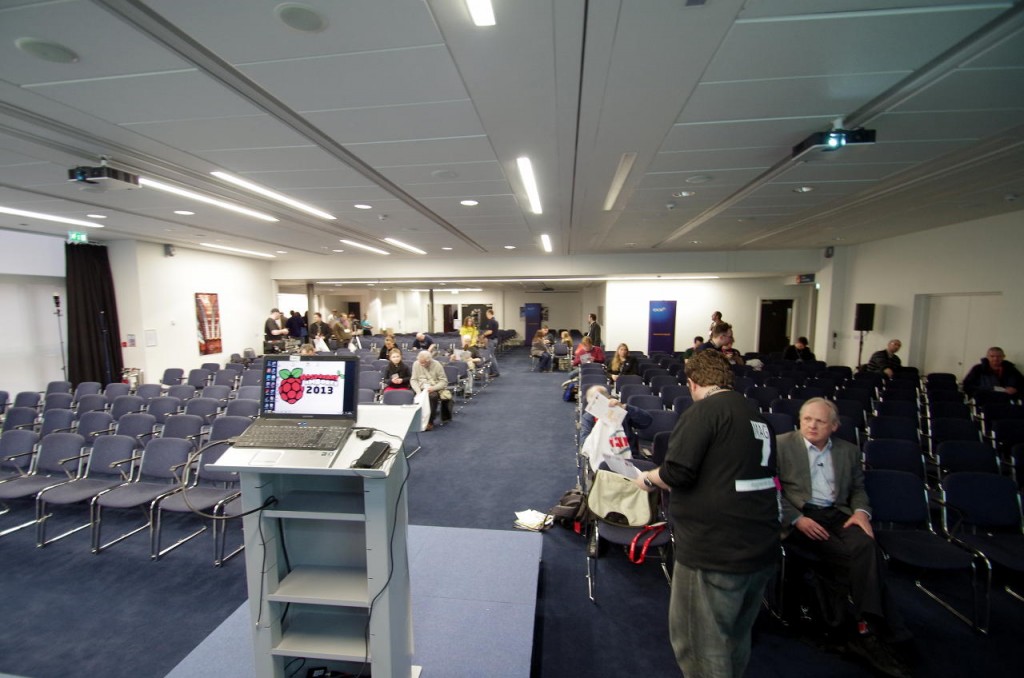 View from the stage – Prof. Steve Furber waits to give the keynote speech.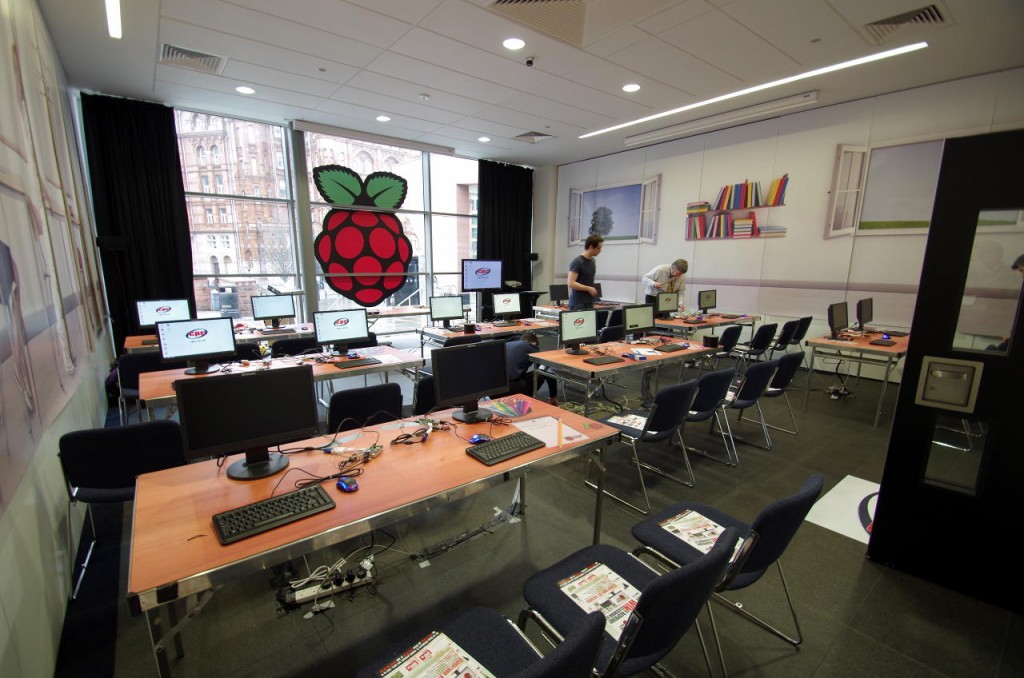 This is the class/demo room where the 45 minute training and demonstration sessions were held.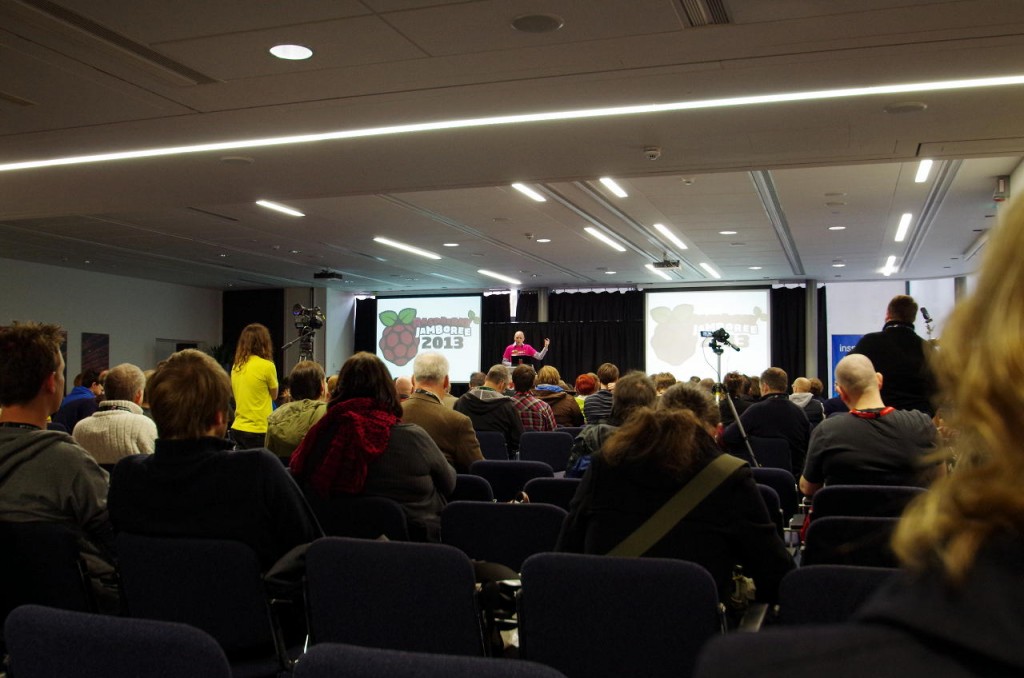 The main room filling up as Alan gives the introduction.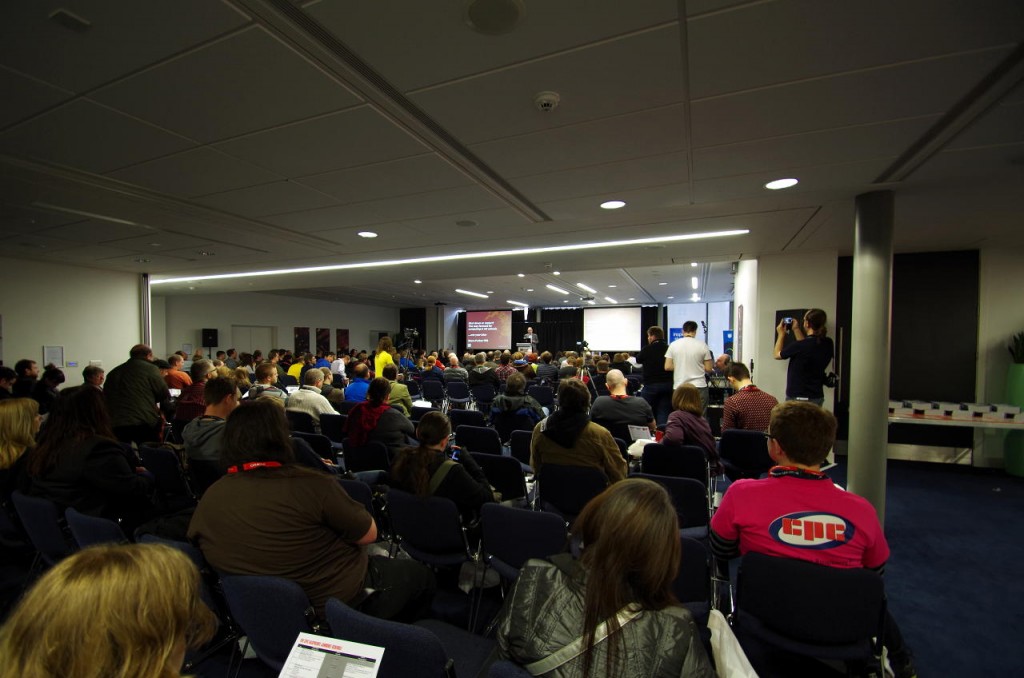 Prof. Steve Furber gives the keynote to a near-full room.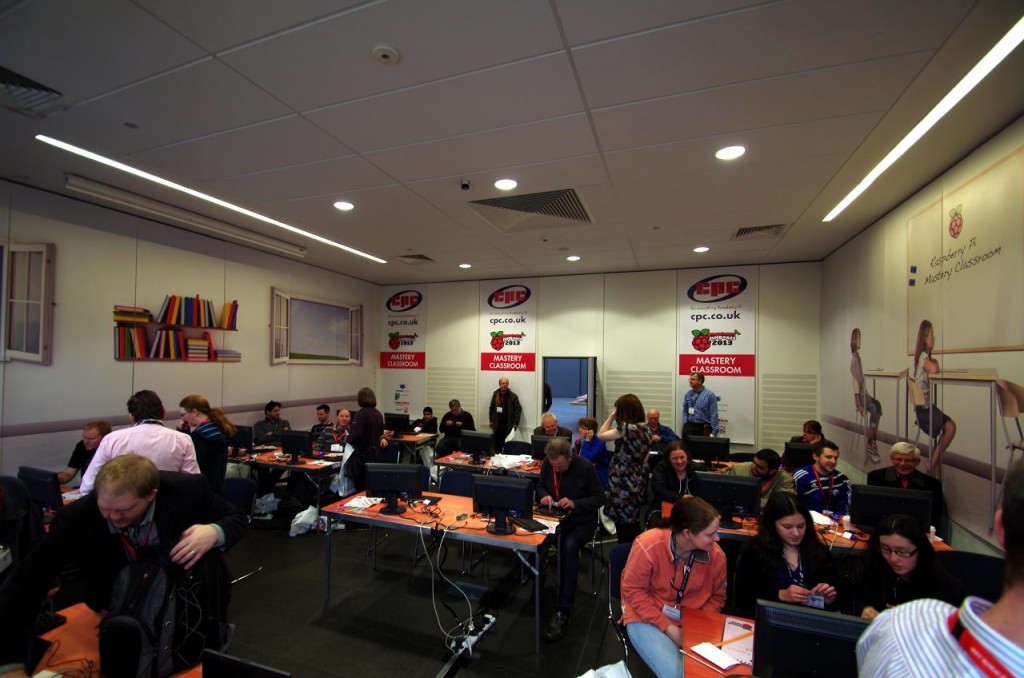 This is the main "classroom" starting to fill up for the PiFace demo.
The prople who attended my 15-minute wiringPi Q&A session.
Rob and a "sampler" of the beers that the pub does… Careful – at least one of those is 18% ABV …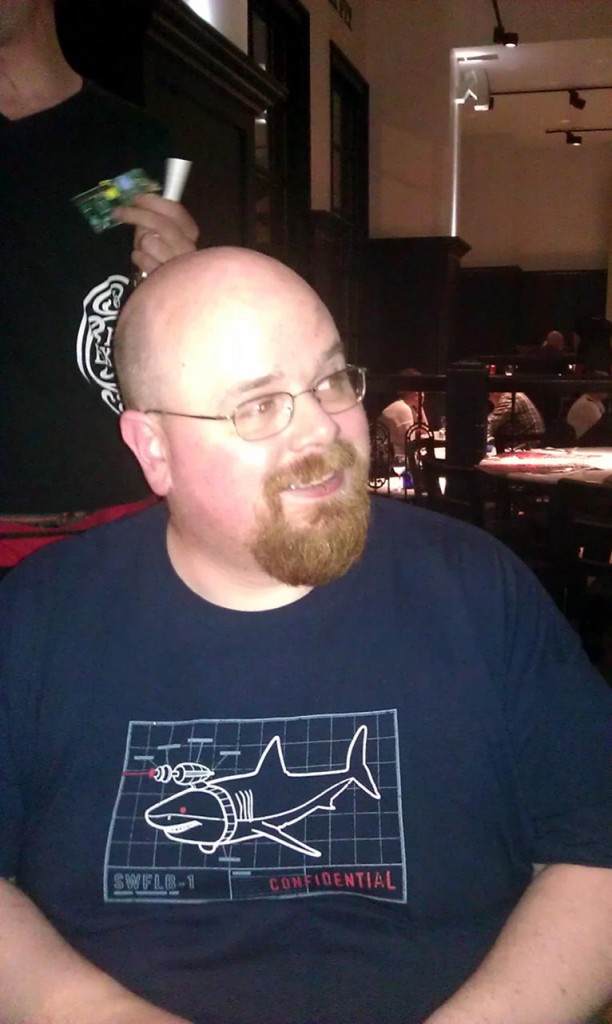 This is Paul Beech from Pimoroni. A very generous guy with a cool T shirt. Note the person in the background is the waiter at our table in Pizza Express holding his tip – strange to think of a Model A Raspberry Pi as a form of currency…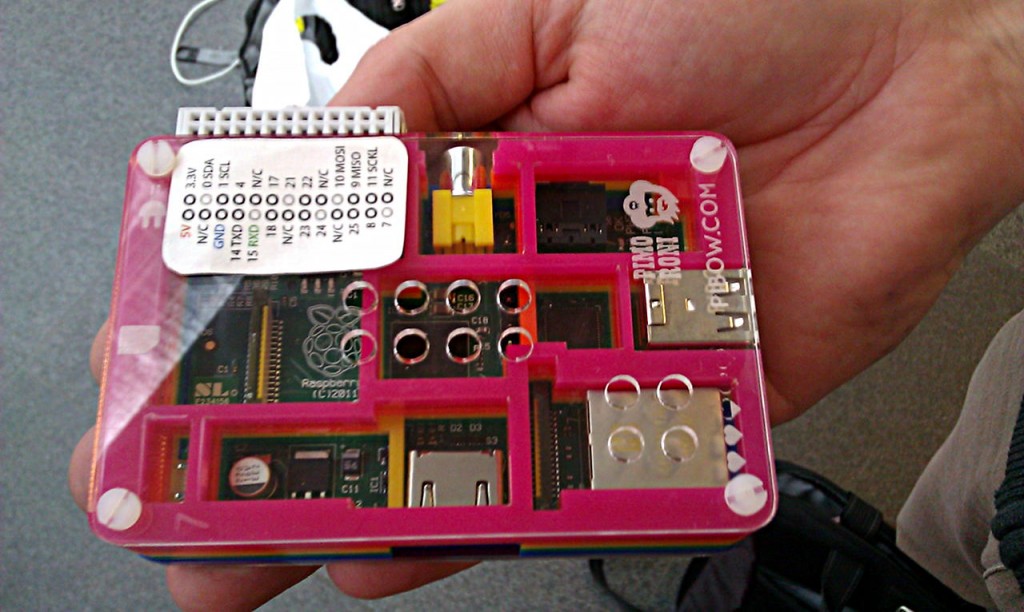 Now this is interesting for a few reasons – one is that it's a PiBow case (See Pimoroni!) and also note the GPIO "expansion". It's a a short piece of ribbon cable with 2 26-pin sockets on it. It fits over the Pi's GPIO then fits snugly against the side of the PiBow case, presenting a set of sockets for the Pi's GPIO – so if you have an investment in male to male jumpers – which you will have if you use Arduinos, then this is a way to use them with the Pi. Of-course the pins are now the other way round, but a simple sticker on the case solved that. This great idea is from Chris Roffey.