So I've been making bread for a good number of years now, mostly self-taught, and even sourdough for a few years now, and as I'm sure you're aware there has been a veritable plethora of baking programs on TV recently – from Paul "silver fox" Hollywood, the Great British Bake-Off to the Fabulous Baker Brothers and who knows what else might be shown on daytime TV, etc… All showing you how to make real bread, but never really going into any great detail…
So, while my bread making was fine, I've always felt it could be improved and as one of my many mottos is "learn something new", I embarked on an artisan bread making course with Dragan and Penny at the Artisan Bakery School in Sparkwell, Devon.
And what a fantastic day it was – actually, I should say two days as I've visited them twice now. The first time as an introduction to their sourdough bread making and the second to look closer at the business  side of things – (The micro business blueprint) going through some of the issues they faced and their solutions, pitfalls and traps and so on. Both times we baked some fantastic bread and my own skills have improved dramatically. Dragan and Penny inspired confidence and showed me new techniques for kneading and shaping, and even right after my first visit with them my bread improved – literally overnight!
Dragan's technique for kneading was excellent and much faster than my own – but after several years of doing it my way, its been somewhat challenging to adapt to his way – it's not that different at the end of the day, but it's more efficient, or seems so – if you had to hand knead dough for over 100 loaves one Christmas eve, as they did a few years back, I guess you get efficient quite quickly!
And on to shaping – who would have thought just how important that was – it's demonstrated quickly with a flourish on TV and in some books, almost glossed over, but seeing it first hand and then seeing the difference in the resulting loaf was very good – even in terms of cooked loaf volume – on the course, we were using slightly less dough per loaf than I was in my kitchen, yet the loaves were rising higher with a better texture than my own… All down to the shaping, slashing and proving technique!
Other techniques – how to test the dough for readiness, how to slash the perfect shape on-top, baking baguettes, rolls (soup buns as Dragan calls them!) and different shape loaves. Different flours – we made rye bread – both a standard sourdough rye with added seeds, nuts, etc. to a classic Borodinski (which tastes utterly fantastic!)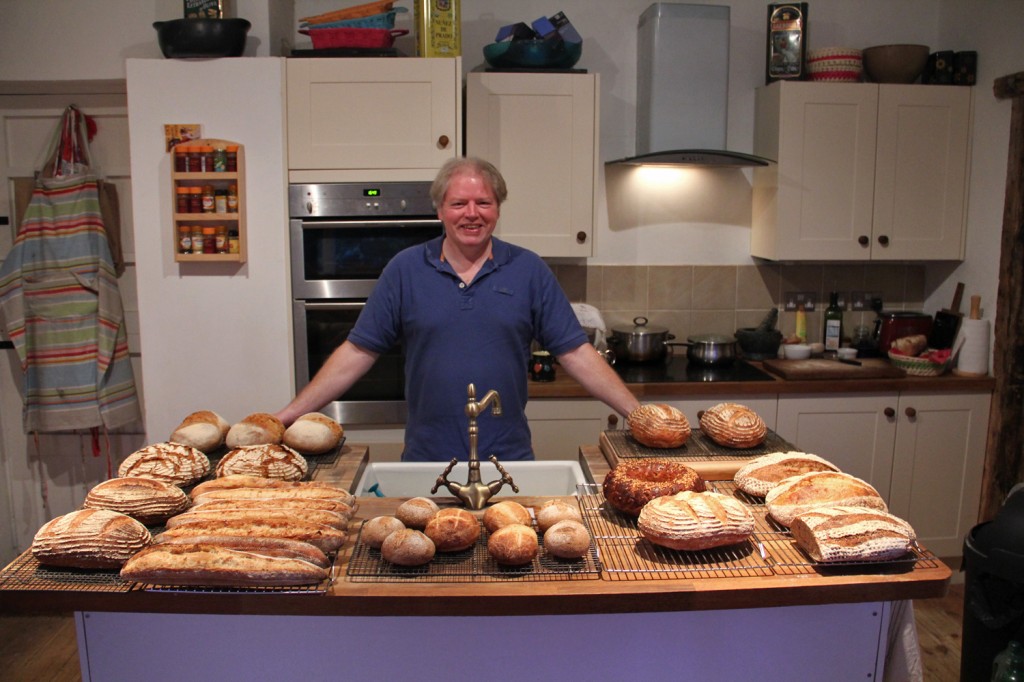 That's me with the bread we made on the last course – I didn't make it all though – there were two others on the course that day, but it's still a lot of bread!
So my own bread now which is being sold in The Seed in Buckfastleigh will certainly benefit from this, and I not have a bit of a clearer head on the business side when I decide to expand the Moorbakes business side of it all.